The Retreat Self Catering Accommodation in Little Maplestead near Halstead Essex
The
Retreat
Little
Maplestead
is
a
superbly
appointed
self-catering
facility,
it
boasts
a
four
star
gold
accolade,
from
the
Tourist
Board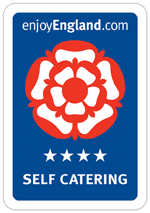 The Retreat Little Maplestead is a superbly appointed self-catering facility, it boasts a four star gold accolade, from the Tourist Board.
The four ground floor apartments are set in a rural location on the Suffolk Essex Boarder and consists of Garden Suite, Field View, The Lodge, and The Barn, all individual properties, you have complete use of the apartment, transport is necessary to visit the charming places nearby.
The  Retreat Self Catering has its own secluded electronic gated access – you have superfast Wi-Fi here – the accommodations are beautifully appointed all has smart tv- toiletries for your use whilst staying- and two of the properties have private gardens to sit and admire the views, so pick one that suits your needs.
These apartments are ideal for relocating between houses, the business traveller, visiting relatives, attending one of the many local wedding functions or maybe a romantic break.
If you enjoy walking visit www.walkinginengland.co.uk/suffolk/sudbury.php
We live onsite so if you require assistance in anyway, we are here to help.
Breakfast
For nightly rated guests (minimum two nights). This applies to Field View and The Barn only at his present time. If you have any food allergies or intolerances we need to be informed before arrival.
We supply a complimentary style continental breakfast on the above this includes
Milk, fruit juice, cereals, yoghurt, fresh fruit, bread, crumpets, or similar, butter, jams, marmalade, ground coffee, instant coffee
Selection of teas and infusions – however if you require a more substantial cooked breakfast please bring your own ingredients
We welcome guests, near and far.
Nearby
attractions
and
places
to
visit
Castle Hedingham 3.4 miles
Long Melford 8.8 miles
Kentwell Hall Sudbury 9.4 miles
Lavenham 13miles
Colne Vally Railway Castle Hedingham 4.3 miles
Dedham 22miles
Colchester 16miles
Braintree 9 miles
Chelmsford 21miles
Audley End House and Gardens 26 miles
Train
stations
and
airports
Stanstead Airport 20 minutes' drive
Marks Tey train station 30 minutes' drive
Colchester Station 32 minutes' drive
Braintree Station 23 minutes' drive
Taxis
We strongly recommend that you pre-book taxis in advance as demand in this area is high, and supply is extremely limited. We are happy to supply local contact numbers if required.
Suggestions
for
drink/food
nearby
The Kings Head Pebmarsh C09 2NU
The Victory Inn Wickham St Paul C09 2PT
Little India Little Maplestead C09 2SE
The Swan Henny C010 7LS
The Bell Castle Hedingham C09 3EJ
Davids Bistro Sudbury C010 2ET
The Secret Garden Sudbury C010 2AA
Alaz Turkish Restaurant Sudbury C010 2BL
Ranfields Brasseries Coggeshall C06 ITT
The Fox Bulmer CO10 7EB
 Pre- booking advisable